Katharina
von
Bora
Jubiläum


Katharina von Bora
Anniversary



Katharina von Bora, Luther`s wife, was a remarkable woman whose life was as unusual and exiting as the reformator`s. She was born of impoverished noble parents in 1499. Later on, at the age of ten, she entered the convent Nimbschen. Under the influence of Reformation she fled from there to Wittenberg. Katharina von Bora and Martin Luther married in 1552. Four out of six children who had been born of the couple reached adulthood. Kathy, the "most famous priest`s wife all over the world", kept house for a big family and was an indispensable companion and adviser to her husband as well. She died in Torgau in 1552, six yars after Martin Luther`s death.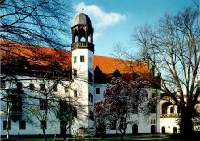 Miscellaneous

Please ask for more information at the office of Wittenberg Information !
We are going to arrange your individual programme.
You can take part in different guided tours through Wittenberg.
If you do not come by coach, we will arrange the transfer.
Our address:
Wittenberg-Information
Schloßplatz 2
D-06886 Lutherstadt Wittenberg


Tel:(03491)498610
Fax:(03491)498611


INTERNET adress: http://www.wittenberg.de/
e-mail: wb-info@wittenberg.de